Waiting for the snow to fall means another day experimenting in the kitchen, and I created these Easy Keto & Paleo Waffles Recipe!
Disclosure: Bear in mind that some of the links in this post are affiliate links and if you go through them to make a purchase I will earn a commission. Keep in mind that I link these companies and their products because of their quality and not because of the commission I receive from your purchases. The decision is yours, and whether or not you decide to buy something is completely up to you. 😉
Easy Keto & Paleo Waffles Recipe
Course: Food
Easy paleo & keto waffle recipe to start your morning!
Ingredients
1 Egg

1/4 cup of Almond Flour

2 tablespoon of Coconut Flour

1/2 of a teaspoon of Cinnamon

1/2 of a teaspoon of Vanilla

1/4 of a teaspoon of Baking Powder*

1/4 cup of Almond Milk

Pinch of Coconut oil or Butter

Dash of Salt
Directions
Grab the ingredients.
In a small bowl mix all the ingredients together.

Once all the ingredients are completely mixed. Grease your waffle maker with either butter or coconut oil, and then pour your batter into the waffle maker and cook until brownish, goldish color appears on your waffle. (I only had to cook mine for a couple of seconds.)

Once done add your favorite topping. Whether your favorite topping is maple syrup or blueberries… or both, it will surely be delicious!
Notes
***Notes: To keep this recipe strictly keto don't use maple syrup and don't use baking powder. Not using baking powder isn't that big of a deal. Using baking powder just gives the waffle a little bit more fluff.
Toppings could include: Strawberries, Butter, Blueberries, Maple Syrup, Jam..etc.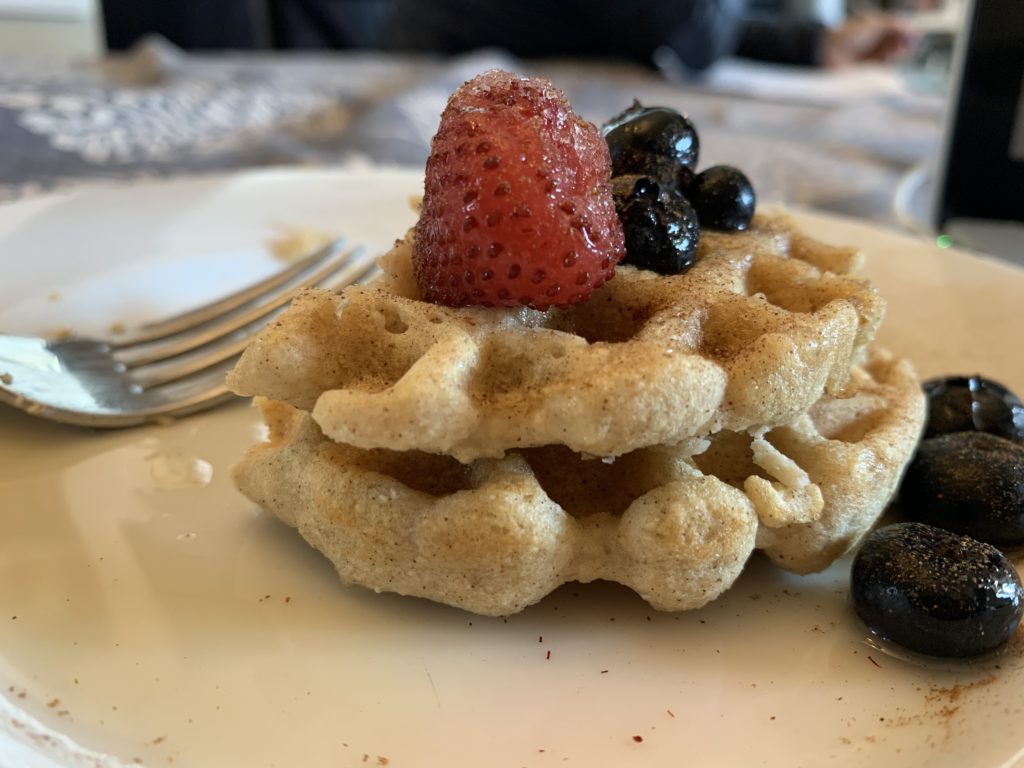 ---
I hope you enjoyed making these Easy Keto & Paleo Waffles Recipe. I think I'll be using this one for my winter mornings. If you enjoyed making this recipe you will also enjoy making Breakfast Sushi. Yum! 🙂