When I'm missing the classic NYC bagels, this is my go to recipe. I have made this bagel recipe multiple times and they always turn out amazing and delicious.
(One of my all time favorite recipes.)
Enjoy. 🙂
The Easiest 'Normal Full Carb' Everything Bagel Recipe
Cuisine: Breakfast
Ingredients
1 1/4 cup of warm temperature water

1 1/2 tablespoon honey (you can use white sugar, but I prefer honey

2 teaspoons of yeast

3 1/2 cups of bread flour

A dash of salt

Topping of your choice (e.g., poppy seeds, sesame seeds, everything mix, garlic)

1 egg + 2 teaspoon of water
Directions
In a medium size bowl, stir together the water and honey until the honey has dissolved. Then add the yeast, and wait 10 minutes or until you see bubbles.
In a bigger bowl mix together the flour and salt. Once the yeast mixture is done add it to the flour and mix together. Then knead the dough using either your hands or a dough hook until the dough becomes an elastic feel.
Finally, place the dough in a bowl that has a little bit of oil (olive oil) and over. Let the dough sit and rise for 1 hour.
Set the oven to 425 F. Once the dough has risen, divide the dough into 8 different balls and shape them into a bagel! Then let them rest for 10 minutes. While the bagels are resting bring a pot of water to a boil. Place each bagel into the pot of water for 1 minute and then take them out of the boiling water and place them on a sheeted pan.
Crack the egg and pour the 2 teaspoon of water whisk together in a small bowl. Then using a brush coat the bagels and add a topping of your choice… or keep them plain and simple.
Finally, place your bagels in the oven for 15-20 minutes or until a light golden brown starts appearing on top. Then let cool for 10 minutes.
Enjoy your delicious bagels with butter, cream cheese, jelly, or made into a sandwich!!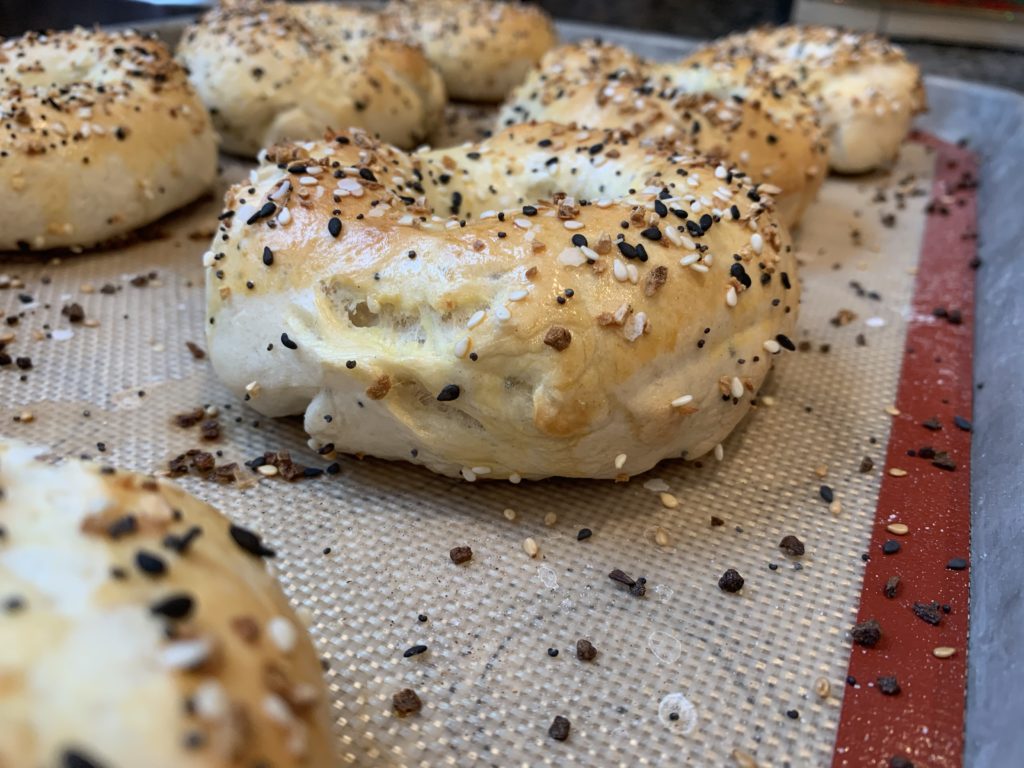 Let me know how your bagels turned out in the comments below! What did you add for a topping? Cream cheese or butter?