I am currently locked down in my home in France. Just as I thought my season of running was about to start, that all changed. It looks like most of my season is now cancelled because of COVID-19 (but I have hope). As much of the world is going on lockdown, confinement or shelter in place, restrictions on outside activity, including running or jogging, leave many runners worried about their training.
In France, since the beginning of the lockdown I have been limited to running a maximum of 2 km from my home. To go for a run, I'm required to carry an "attestation" and identity papers. I've been able to squeeze in some creative short workouts of speed work, hill repeats, or just back and forth running. People are speculating that running will be further restricted this week. This could potentially mean no outside running at all. 🙁
My solution is yoga.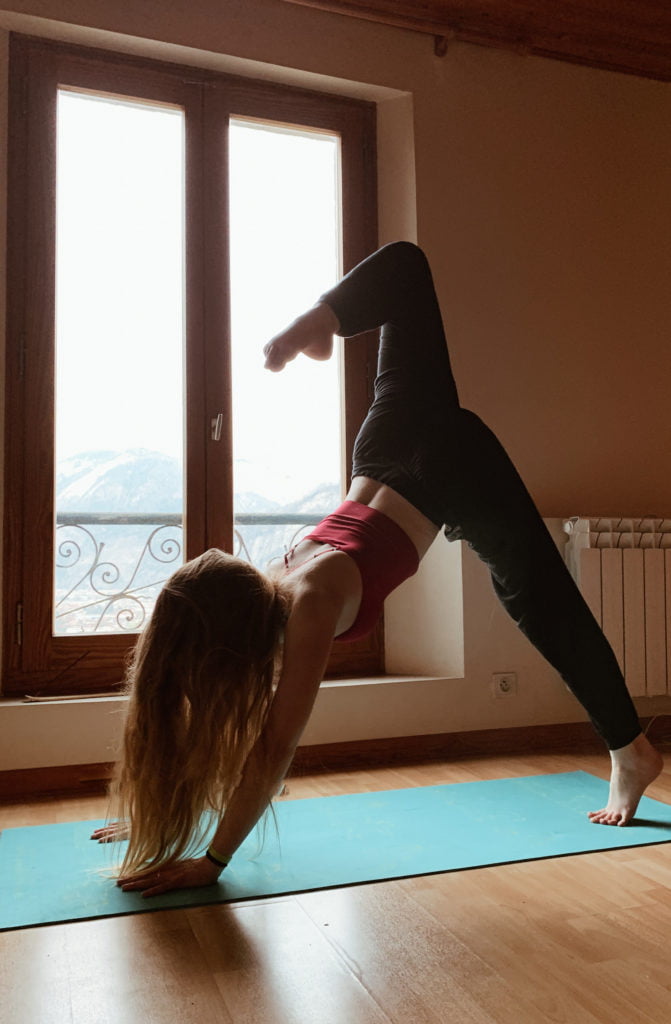 Yoga is the Solution
Before I started practicing yoga, I thought yoga was a gentle stretch that you would do after a run. For me, that is not the case anymore. Yoga is so much more. Yoga is part of my everyday life. It is my strength routine. It is my stretching routine. It is my breath and spiritual outlet. It is also a great way of getting in cardio!
There are different types of yoga. A few well known ones are: Bikram (really hot yoga), Vinyasa, and Ashtanga. My personal favorite is Ashtanga. Ashtanga yoga is a predictable sequence, and it is also very strengthening for your body. An average practice session is 60-90 minutes.
During this particular time, yoga can be really great for calming your mind and evaluating yourself. It is really helpful for not stressing about training, or COVID-19.
There are some people who are resistant to trying yoga, including many runners. Some people may hesitate to try yoga because they feel they do not look "good enough", aren't as flexible as they think they should be, it is a lame idea, it isn't good for your body, or it is for "old/young people".
When I first started yoga I couldn't touch my toes(!). I thought it was for old people. I thought it wasn't a workout. I had heard that it is not good for runners because runners tend to be tight and it can cause injury! But I was wrong. I was wrong on all of that.
I have become so flexible because of yoga. I take notice of my breath. I am a stronger person, a happier person. I have learned yoga is for EVERYONE. Most importantly, I feel stronger than ever when running.
This is all because of yoga.
During COVID-19 you have no excuse not to try yoga, add it to your training routine, or substitute it for your running. You don't need a lot of space and you don't need to leave your home! There are a ton of free resources and classes online.
Here are a few ideas:
Free Live Online Yoga Classes Monday-Friday at 9:30am EST. Check it out: ici. Or they will be livestreaming on Instagram. You can also check out YouTube where I am sure you will find some really good yoga practices or ideas.
---
If you have any other ideas I would love to know! Leave a comment below! I would LOVE to see your yoga pics… tag me on IG. (@djswagzilla)
Finally, please stay home and stay healthy. Running days will be here soon. Don't stress.