I am in Awe. I am currently eating one of the best bagels I have ever had… and they are keto! They are SO easy to make and so quick!
Here is the recipe that I hope you try because… ils sont parfaits. ?
Perfect Keto Everything Bagels
Ingredients
5 Eggs

1 Tablespoon of Apple Cider Vinegar

2 cups of Fine Almond Flour

1/4 cup of Ground Flaxseed

1 Teaspoon of Baking Soda

Dash of Salt

5 Tablespoons of Everything Bagel Seasoning*
Directions
Grab all the ingredients and set the oven to 350 degrees.
Whisk together the Eggs and Apple Cider Vinegar until mixed
Then mix in all of the dry ingredients into another bowl, BUT do not add 3 tablespoons of Everything Bagel Seasoning only 2 tablespoons into the batter.
Once the dry ingredients are mixed add the eggs and apple cider into the bowl and mix until all mixed together.
In a donut pan spray oil or butter the pan and pour the batter into each 'donut spot', about 3/4s full.
Finally sprinkle the 3 tablespoons on top of each bagel and then bake in the oven for 17-20 minutes.
Enjoy these delicious keto bagels once cooled!!
Notes
I much prefer Trader Joe's Everything Bagel Seasoning than making my own… only because I already have it on hand! You can certainly make your own Everything Bagel Seasoning!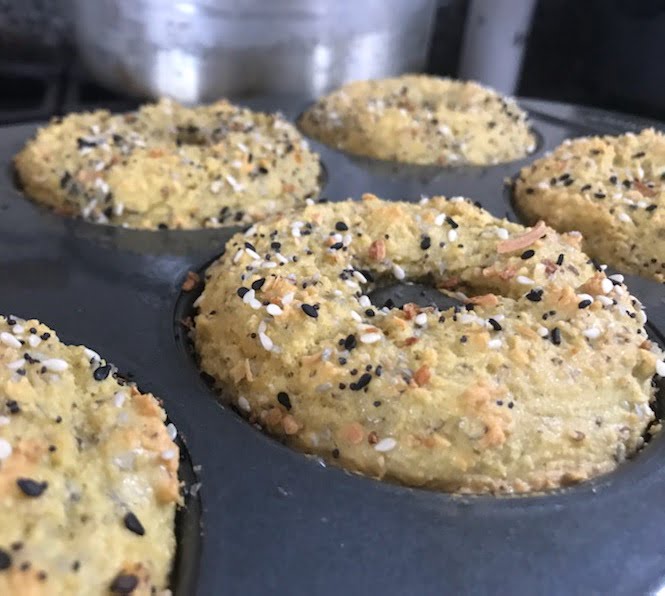 ---
I hope you enjoyed this delicious recipe of keto bagels! 🙂 Check out these "regular" everything bagels that are also absolutely amazing!!