Female Athletes Under 25 You Need to Know About
Over the years, I've had the privilege of meeting incredible athletes from all over the world. These athletes have included talented young women. Their talents extend beyond athletics. They are all around inspiring humans.
So, I had this idea to feature some of these women in an exclusive post "Female Athletes Under 25 You Need to Know About." Why? Because I think the world should know about these athletes.
Disclosure: Bear in mind that some of the links in this post are affiliate links and if you go through them to make a purchase I will earn a commission. Keep in mind that I link these companies and their products because of their quality and not because of the commission I receive from your purchases. The decision is yours, and whether or not you decide to buy something is completely up to you. 😉
*Cover photo credit: McKinley Pierce.
How I chose to feature these inspiring women
I spent a lot of time thinking about who I should feature on Skyrunning Girl for this post Female Athletes Under 25 You Need to Know About. These specific women are inspirational. They love sports AND they love life.
From their individual and unique stories, it's apparent that these women get up in morning ready to seize the day and make the most out of life. Whether they're crushing personal goals or helping others, they are inspirational.
This blog post is something very personal and close to my heart. I hope you find inspiration from these women listed below.
I reached out to each of these featured women and asked them questions. Wanting to dive into their stories. Who are they? What has challenged them in their journey?
The goal
My goal and hope was that their answers would inspire other women around the world.
I think you'll see that my goal and hope was accomplished! These women are inspirational!
I hope that other women will find inspiration in each of them. And those of similar or younger ages will be especially encouraged by these women who are doing wild, incredible, adventurous things.
Most importantly they are living life in their own footsteps.
So, in no particular order, please let me introduce these amazing human beings.
Female Athletes Under 25 You Need to Know About
Living in the Swiss Alps, Alessandra is a talented competitive mountain runner and ski mountaineer.
From: I am from a small village called Fiesch in Switzerland. It's in the German speaking part of Switzerland. But I am also often in Crans Montana ( because my boyfriend has an apartment there ? ).
Passion(s): I love trail running and skyraces and my specialty vertical races, I always say: the stepper the better it is for me and in the winter of course ski mountaineering the perfect combo.
1. What are your dreams/goals?
One day I would like to be one of the top athletes of the Golden trail series
and maybe participate once at the UTMB or one of its races. But I'd also like to motivate young athletes to run/ski in the mountains. Maybe skimo will be part of the Olympic Games 2026 in Italy, participating at the Olympics would definitely be the greatest opportunity and experience in a sports career.
2. What advice would you give to a young female athlete/adventurer who's just starting out and wants to blaze her own path?
Listen to your heart and follow your dreams, if you wanna run in the mountains and don't have a lot of experience, just give it a try, learning by doing. 😉 Maybe reach out to some other girls for advice. The most important thing: enjoy every single moment and do what makes you happy
3. What has been your biggest challenge or hurdle?
Not a challenge but an advice: sport is a process, sometimes you will fall sometimes you will win just never forget to get up again, it will make you stronger, and never forget to smile. ?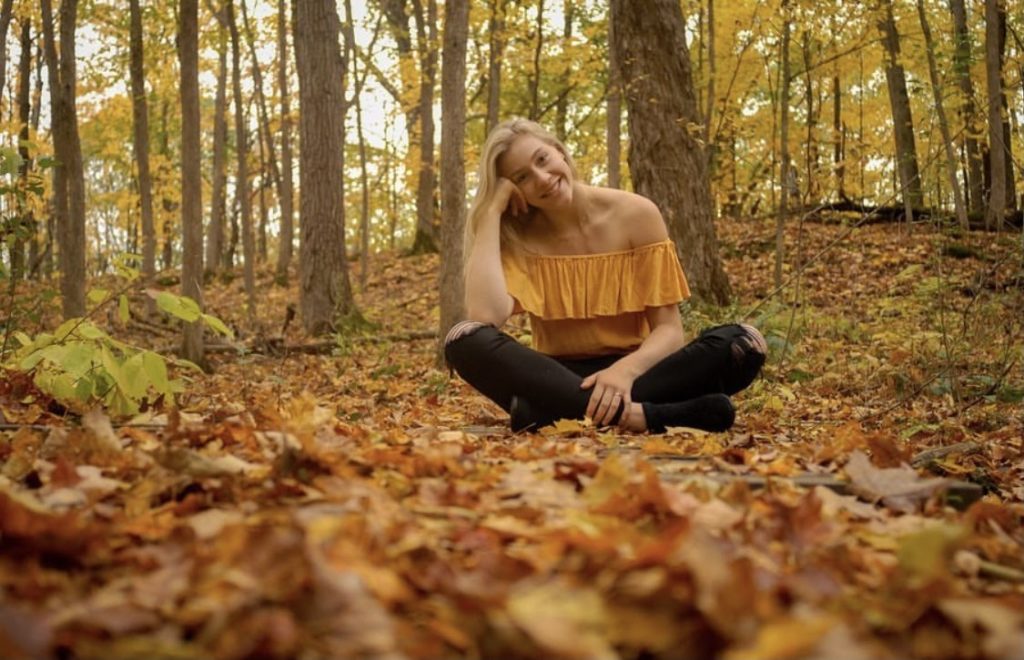 A talented and driven athlete and student living in the USA.
From: I was born in Michigan and I moved to Vermont in 7th grade. I am now in Ithaca, New York where I am a Freshman at Cornell University.
Passion(s): I am a gymnast. I am currently on the Cornell gymnastics team.
1. What are your dreams/goals?
My dream is to be happy in life and help make the world a better place. I know that is cliche but I think it is really important to find a career where you can help yourself and others. I plan to go into marine biology because I love the ocean and want to help fight climate change and save marine biodiversity from harmful human impact.
2. What advice would you give to a young female athlete/adventurer who's just starting out and wants to blaze her own path?
Never ever give up. Ever.
3. What has been your biggest challenge or hurdle?
I have struggled with mental health issues my entire life, and especially transitioning from high school to college. I never in a million years thought I would actually be a college gymnast, or even go to college for that matter. No matter how hard it gets, just keep pushing. You will amaze yourself.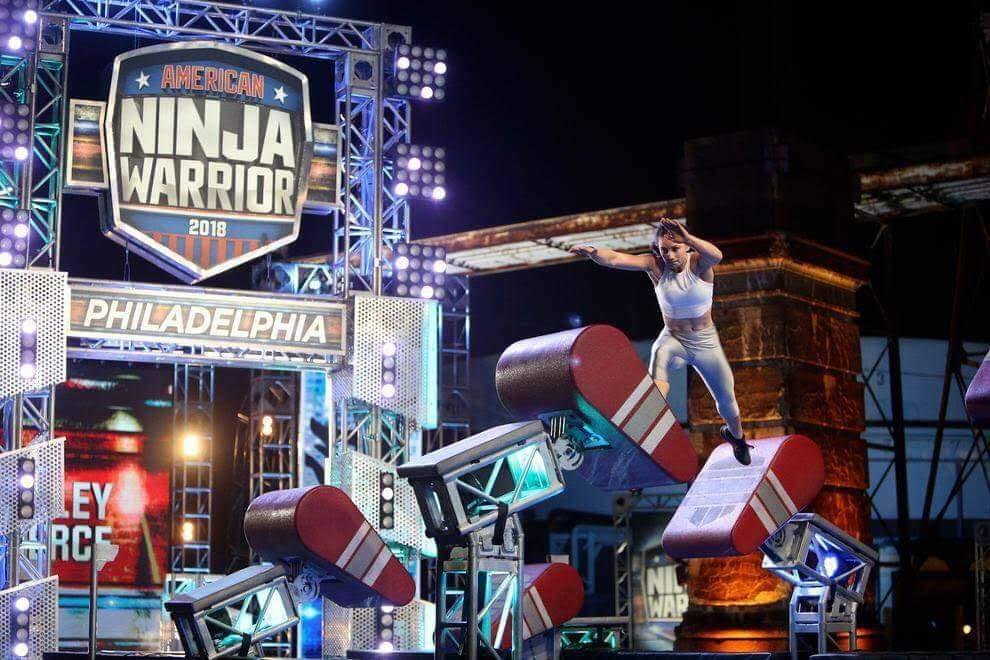 An accomplished ninja warrior and coach from the USA.
From: I [was] born and raised in Vermont.
Passion(s): I currently coach and compete in the sport of Ninja Warrior.  I've competed on the TV show "American Ninja Warrior" 3 times and I compete in ninja leagues throughout the year. 
I have been doing ninja for almost 4 years now and when I first started, my goal was to get on the TV show.  I thought it looked like a fun, interesting challenge.  And I had no idea what that entailed but jumped in head first.  I learned so much about the sport and myself, and I realized that ninja is so much more than just a TV show. 
In the end, I ended up being a walk on in my first year applying to the show where I waited in Philadelphia for almost three weeks at my chance to run the course.  The next two years I was lucky enough to receive a call back. 
Since achieving that goal, I now set specific goals for myself to work on physically for example, technique and efficiency of a certain obstacle, or increasing my deadhang time (a deadhang is when you actively hang on a bar. It helps with grip strength!) or trying to beat my last pull up PR.
1. What are your dreams/goals?
My current goals for myself are to just be the best version of myself in my sport. I am always looking to improve physically and mentally.
One of my biggest goals or dreams in life has always been to change the world in any way that I can. My passion is helping others achieve their own goals and that's why I fell in love with coaching. It may be such a small piece to the much bigger issues in the world, but when I see the progress that someone has made with my assistance, there is absolutely no better feeling.
2. What advice would you give to a young female athlete/adventurer who's just starting out and wants to blaze her own path?
My biggest advice that I can give to a young athlete would be that confidence is key, trust the process and finally, failure is good! I never knew that I would be on this roller coaster of a ride when starting ninja.
There were so many times when I made a mistake during a competition and doubted myself and I had to learn how to pick myself back up and keep pushing. It's all part of the process. It would have been so easy for me to give up when things didn't go my way but I had my sights set on the end goal and I had to trust that what I was doing was all apart of the bigger picture.
When I started believing in myself and realizing my own potential, that's when I made the most progress. I had to trust myself and believe in my own ability in order to progress or allow myself to get better. Ninja makes me feel incredible and I want every person to feel that whether it be from a sport or anything in life.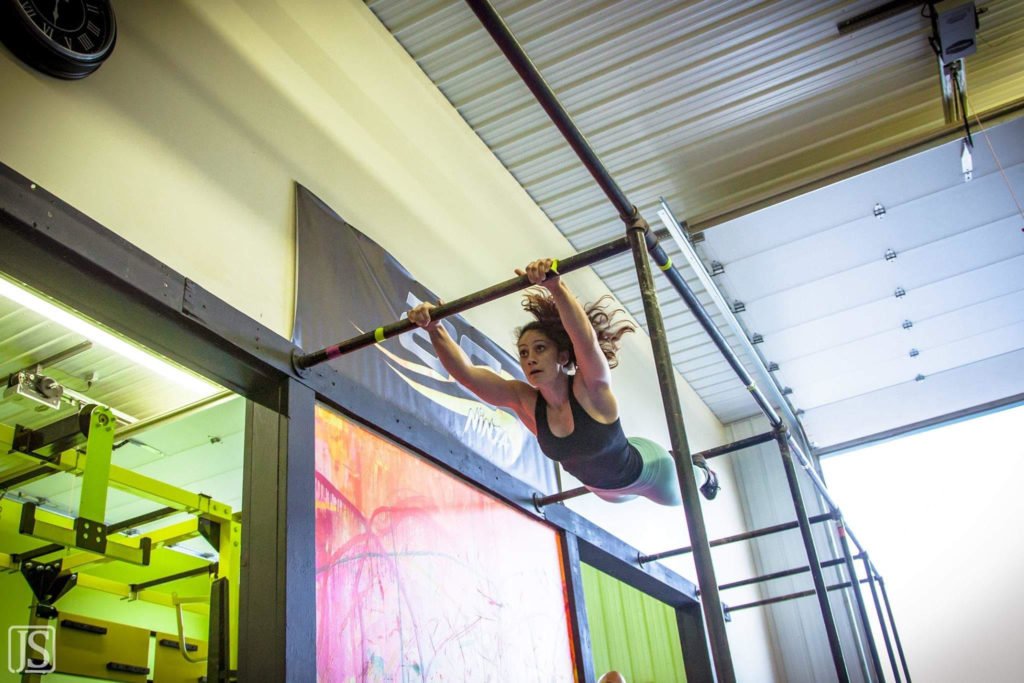 3. What has been your biggest challenge or hurdle?
My biggest hurdle in life and in my sport is my brain! I have learned throughout these years that being successful in my sport is not just all about my physical strength but my mental strength as well.
You need to constantly tap into your mental health, and check in with yourself and reflect on how you're feeling mentally. You have to be in a good, healthy mindset in order to make progress physically. I compare a lot of my hurdles or obstacles in my life to my ninja training.
If I'm jumping from one bar to the next and mentally I have not prepared myself and I am not thinking positively and trusting myself, then I'm going to completely miss it and fall flat on my face. However, if I'm practicing positive thoughts and being confident with myself, my body will react to that and naturally catch the bar avoiding the faceplant. You will be absolutely AMAZED with what you can do when you believe in yourself.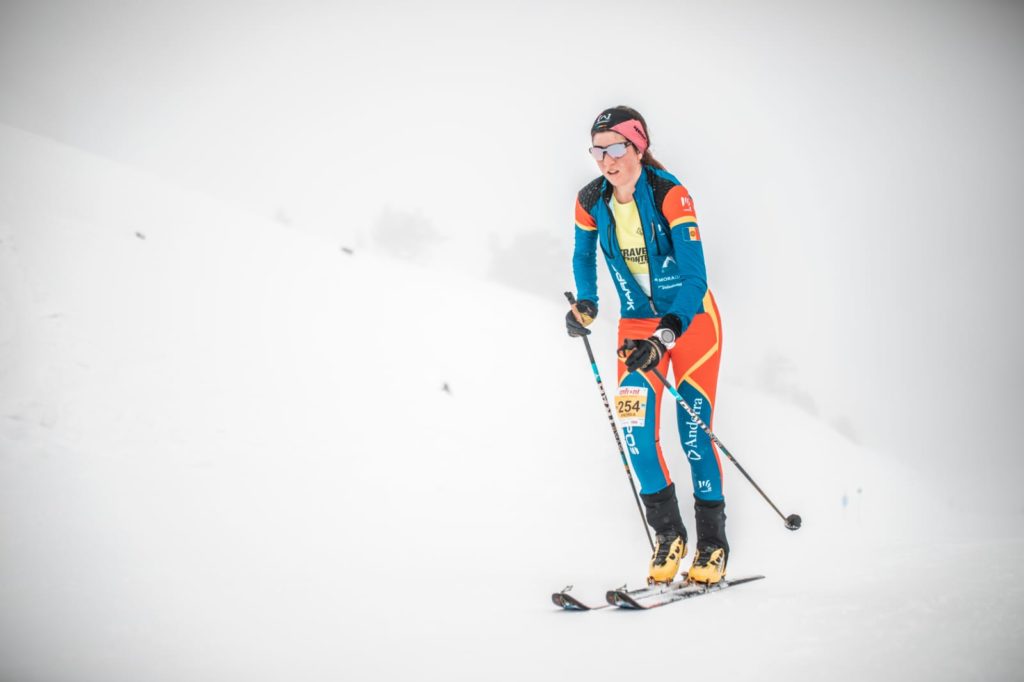 Andrea is a natural born athlete. She won gold at the Youth Skyrunning World Championships in 2017.
From: I was born and I have always been in Andorra. Now I'm studying in Chambéry (France).
Passion(s): I do sports in the mountains. I race in ski-mountaineering and trail running, and I practise other sports (mountain bike, road bike…) for training.
1. What are your dreams/goals?
My dream is to live according to my principles. I would like to live a life near the nature and doing activities that fill myself. In my studies I would like to learn a lot and be able to enjoy the career not for the degree I get but for the pleasure of learning; and in sports I would like to see progression and try to work on my limits but always without losing the motivation and the love for sports and mountains.
2. What advice would you give to a young female athlete/adventurer who's just starting out and wants to blaze her own path?
I would say [to] her to always follow her dreams and instinct. You don't have to give up due to the opinion of the others. And you must trust yourself, do the best you can and learn from all situations. You can do whatever you want if you try hard and you trust yourself, and if someday you think you are losing your motivation, stop and think why you do the activity you do and restart to achieve your goals.
3. What has been your biggest challenge or hurdle?
Training and racing is sometimes hard as you search your physical limits, but I think the biggest challenge was (and still is) to find why I am doing this and searching the way I want to do it to stay in accordance with my values. I don't like some of the values that professional sport (and our society in general) shows, so I enjoy searching alternatives to do my sports, my studies etc. according to what I think it's "the best" for me and for the others. So, in my opinion this year has been an important turning point to act always conscious.
You can also find Andrea through her Instagram account.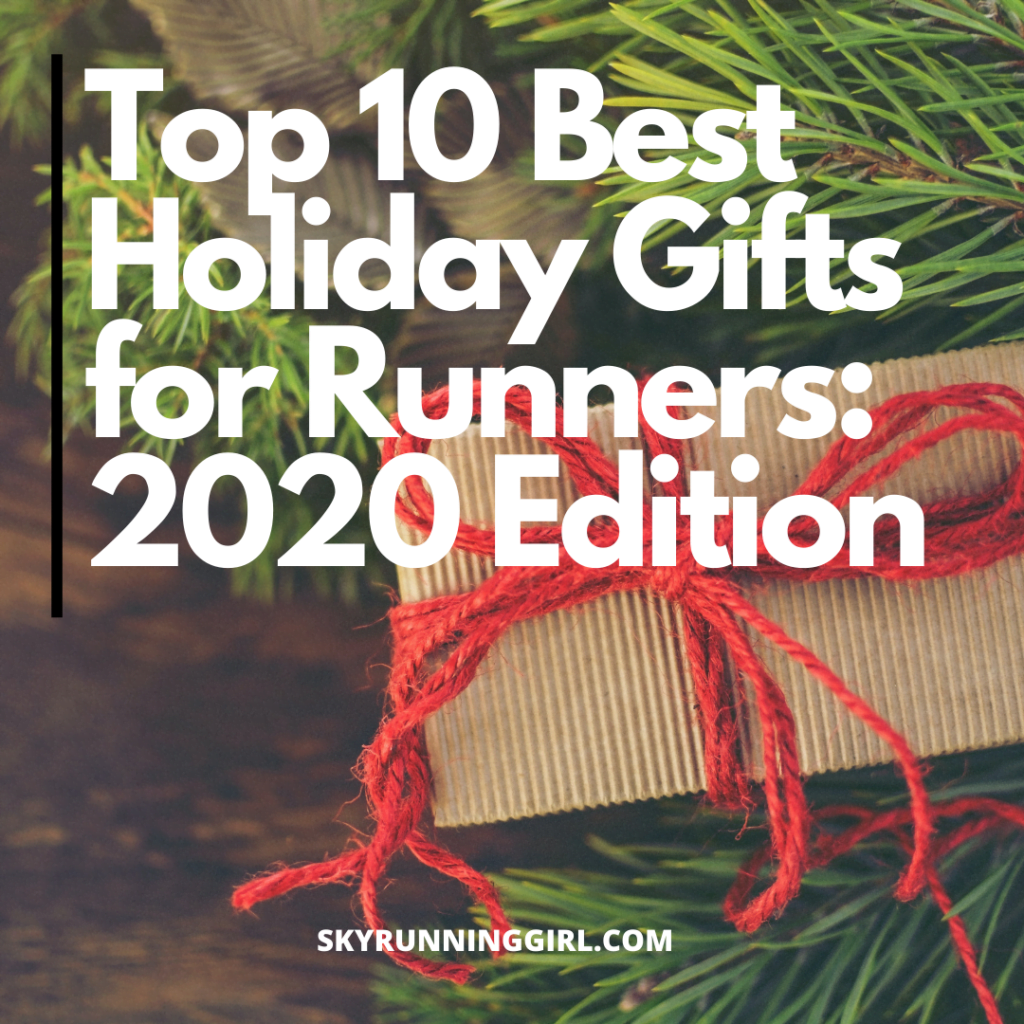 Pursuing her dreams, Katherine is a talented athlete, choreographer, and gymnastics coach.
From: Essex, Vermont
Passion(s): Gymnastics
1. What are your dreams/goals?
In life, I hope and strive to spread kindness to all, inspire others to be themselves, and to never let a day pass without a smile and a laugh.
As for my work, it is to not just create strong, technical, and hard working athletes, but to help guide them to being brave, unique, confident, and kind people who are never afraid of being themself.

I could list all the skills and achievements and placings that I would love to help guide my athletes to, but the thing I love most about what I do is that I'm not just coaching an athlete, I'm teaching a person, a child, a human. That always comes first and will always be my goal: Coach the person first and the athlete second.
2. What advice would you give to a young female athlete/adventurer who's just starting out and wants to blaze her own path?
Create your own definition of success even if it's "out of the ordinary", and ALWAYS listen to your heart, as it will forever pull you to what makes you happiest.
3. What has been your biggest challenge or hurdle?
Well, in gymnastics I had to have 2 surgeries that really set me back. I think I'll forever [wonder] what I could've become if I hadn't ever needed those. I also struggled a lot deciding not to go to college… the hardest part was when people would ask me what my plans were after gymnastics, and seeing their face when I said I'm choosing to not go to college. As hard as that time was, I really learned a lot about choosing to do what you love and not doing what other people think is right.
Other people's definition of success doesn't have to match yours. My definition is loving every moment of work, and never feeling that "is it Friday" mood. Life is too short to spend doing something you don't love.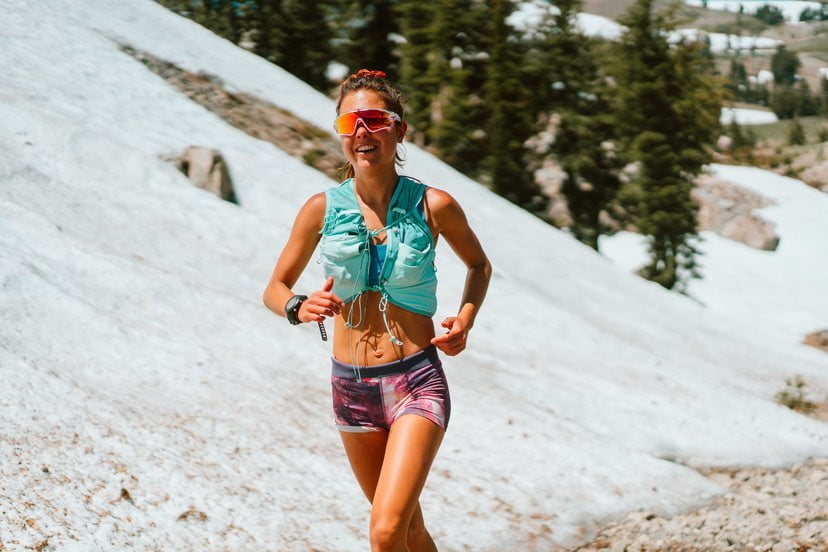 Sofia is a talented skier, runner, and artist from the USA. She won the 2018 and 2019 Youth World Skyrunning Championships.
From: I grew up in Lake Tahoe, CA and have lived here my whole life! I attended my first year of college at Colby College in Maine where I was on their Division 1 Nordic Ski Team, however since the pandemic has hit I am back at home studying online.
Passion(s): Skyrunning & Nordic Skiing
1. What are your dreams/goals?
Most of my athletic career has been very goal/result oriented, however, after having struggled with pressure, injury, and burnout, I have shifted my focus away from competition and more towards enjoying movement in the outdoors for the joy it brings me, the people it connects me with, and the amazing places I can access with my own two legs.
If you asked me a year ago what my goals were, I would likely mention my 4 All American Titles in Nordic Skiing and in 3 world championship titles in Skyrunning, and tell you that I wanted to rack up more of those kinds of titles. However, now that my focus has shifted, I'd say that my athletic goals are to travel, explore, and enjoy as many of the world's amazing natural features as I possibly can while I still have my youth and health.
2. What advice would you give to a young female athlete/adventurer who's just starting out and wants to blaze her own path?
I would say be kind to yourself, listen to your heart and body, make the most of your opportunities and don't be afraid to try new things or step out of your comfort zone, realize that sometimes there is power in slowing down, and embrace challenges as an opportunity to grow.
3. What has been your biggest challenge or hurdle?
Throughout my athletic career, I suffered a lot of chronic injuries, physical ailments, and mental health issues as a result of putting far too much pressure on myself to perform. Around the time I started high school, [I] began to struggle with anxiety, self-confidence, and poor body image.
While dealing with these issues, I struggled to find self-worth outside of my athletic achievements, which caused my approach towards exercise to shift from a healthy outlet to a compulsive way to control [my] physical appearance, and compensate for feelings of deep insecurity. Throughout my early high school career, I struggled with anorexia, orthorexia, Overtraining Syndrome/REDS.
In [my] later high school and collegiate years, I ended up in a perpetual cycle of injury as a result of the aforementioned conditions combined with my refusal to take time off since I thought that if I took time off I would fall behind.
I hit a breaking point at the beginning of last April, when I found myself hardly able to walk as the result of a chronic back and hip injury that I competed through for over 2 years.
For the past 6 months, I have been taking time away from competitive athletics in order to focus on healing my body, improving my mental health, and cultivating a better relationship with exercise, body image, and food. I'd say that this period off has probably been the hardest thing I have ever had to go through, healing has been a long and tedious process that has forced me to confront a lot of past traumas and do a lot of shadow work.
I am so thankful for these challenges, however, since they have allowed me to learn a lot of myself and become a more balanced, joyful, and well rounded individual.
I'm almost back to being able to run and have such a greater love and appreciation for my sport and body. And I am also thankful that this time off has given me the opportunity to explore other sides of myself- I have discovered a love for doing abstract drawings and paintings, and have spent a lot of time delving into my spirituality through my Reiki and Tarot card practice!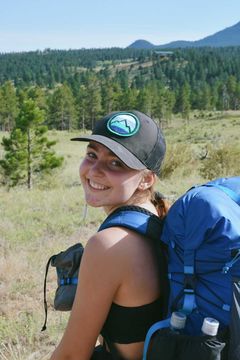 Crushing miles all across the world, Zoe is a hiker, runner, blogger, and world traveler!
From: Burlington, Vermont
Passion(s): Hiking & Running
1. What are your dreams/goals?
To make adventure an ongoing part of my life, to be the most interesting person I can, and to do more long-distance hiking and running.
2. What advice would you give to a young female athlete/adventurer who's just starting out and wants to blaze her own path?
People will judge you. People will be skeptical. That's okay. To step outside the box, you have to be brave and accept that not everyone will be supportive. Have fun with it. Go on that adventure, make it amazing, and then go on the next adventure.
3. What has been your biggest challenge or hurdle?
Stepping outside the box and setting off on my own was scary. Sometimes I wondered if I was doing the wrong thing. Should I have stayed where I was and not been so ambitious? But taking responsibility for myself was the beginning of my independence. The hoops I had to jump through to get where I am were overwhelming and terrifying. Yet jumping thought them enabled me to grow and become the more mature and capable person I am now.
You can find out more about Zoe Greenhouse through her blog!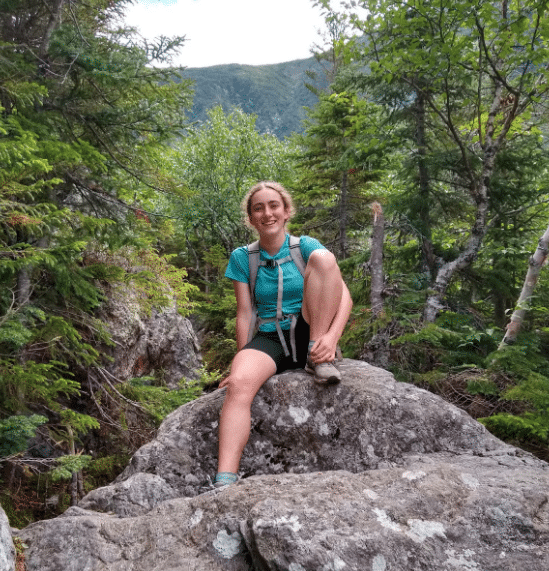 Erin is a talented runner who competed in the Youth Skyrunning World Championships taking home 2nd place in 2017.
From: I'm from Moretown, Vermont, and I'm currently going to college in Massachusetts.
Passion(s): Running in any form: cross country, track, and skyrunning.
1. What are your dreams/goals?
I want to continue to get stronger, and try to branch out from the 5-6k and run some shorter and longer distances in the next couple years. After college, my dream is to do more trail races and skyraces, and to continue to have running as an enjoyable part of my life. In the more distant future, I have a dream to be some sort of coach, because so much of my life has been impacted by the opportunities I had for running since I was nine years old, and I would love to be able to give that to future generations as well.
2. What advice would you give to a young female athlete/adventurer who's just starting out and wants to blaze her own path?
Find something you love to do, and take the opportunities that come your way. Don't be afraid to think outside the box and try something new, and don't be put off by fear that you won't be good at it. Every experience can help you grow, and you never know when you'll find a new passion! The first time I entered a skyrunning race I had no idea what to expect, but I discovered a whole new branch of running I'd never even considered before.
3. What has been your biggest challenge or hurdle?
Remembering that running is not about the results of one race. It's easy to put too much pressure on myself or to tie my self-confidence too strongly to how fast I can run. It's a challenge, but one I think I've gotten a lot better at, to keep my love of running as the number one reason for doing this sport.
---
Conclusion
Who is someone that inspires you?
I hope you enjoyed reading "Female Athletes Under 25 You Need to Know About" To know more about me you can visit my About page!
Leave comment below and tell me who inspires you! Don't forget to spread the love!